Variable displacement pump A7VO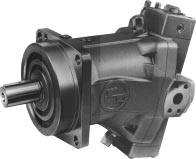 Variable-displacement axial piston pump with bent axis for hydrostatic drives in open circuits.
Flow is proportional to drive speed and displacement. It can be infinitely varied by adjustment of the bent axis.
Axial tapered piston rotary group of bent axis design.
Infinitely variable displacement.
Compact, robust bearing system designed for long service life.